EXPANDING WEB ACCESSIBILITY FOR ALL
AccessibilityWidget: A leading Automated
Web Accessibility Solution driven by AI.

This accessibility widget is a game-changer in web accessibility, simplifying and streamlining the process of becoming accessible and compliant with WCAG & ADA standards using artificial intelligence (AI), machine learning, and computer vision.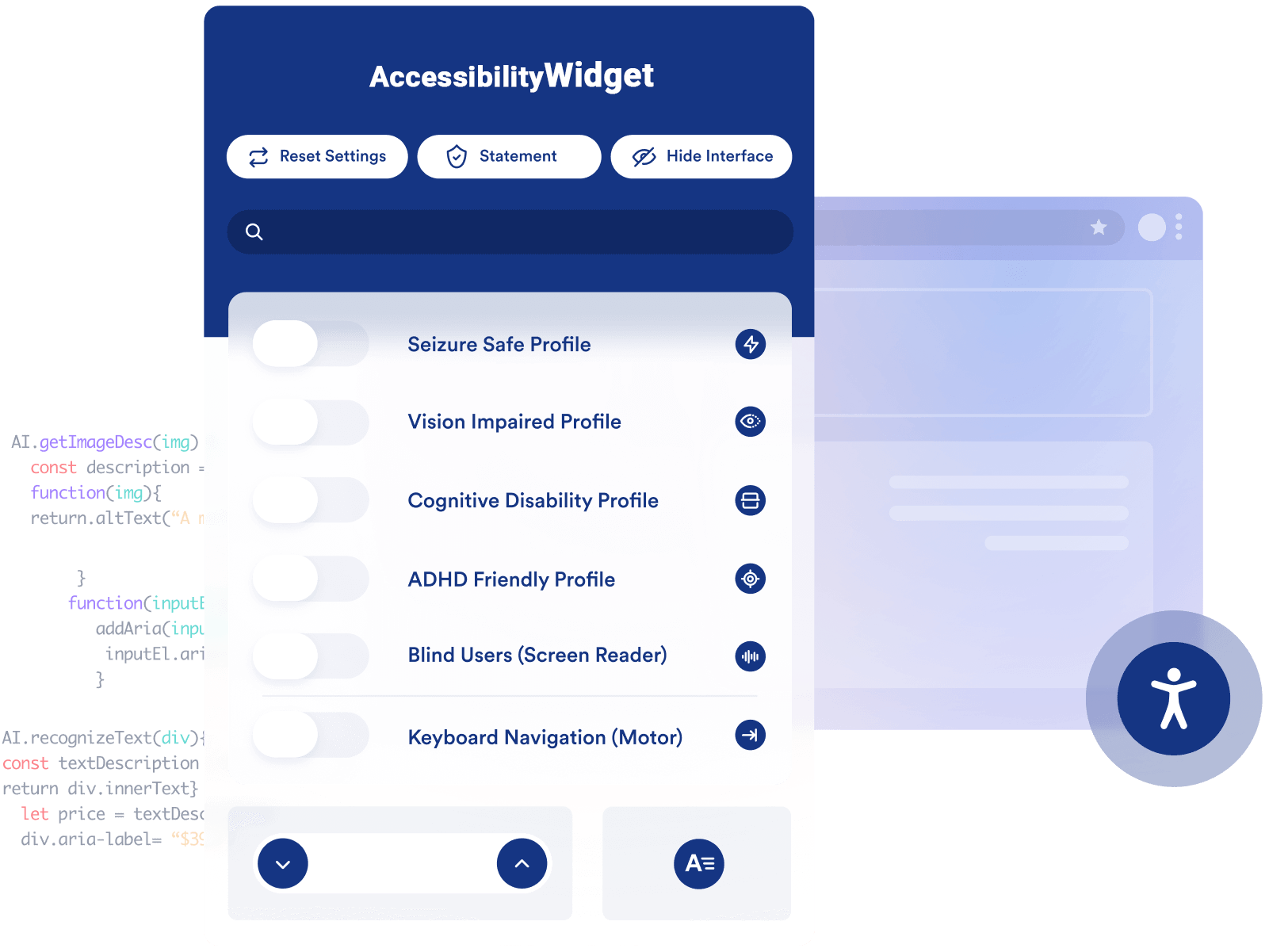 What is WCAG?

Web Content Accessibility Guidelines (WCAG) 2.0 defines how to make web content more accessible to people with disabilities. Accessibility involves a wide range of disabilities, including visual, auditory, physical, speech, cognitive, language, learning, and neurological disabilities. The guidelines cover a wide range of issues, but they are not able to address the needs of people with all types, degrees, and combinations of disability.
These guidelines also make Web content more usable by older individuals with changing abilities due to aging and often improve usability for users in general.
ADA Compliance for Websites

Recently, the U.S. Department of Justice (DOJ) issued an opinion on ADA Compliance relating to websites. While it's not the first time that ADA Compliance for websites has been discussed, we believe this is the first time an official stance has been voiced about ADA Compliance in respect to business websites. The official DOJ article is available here.
Being that the United States government has taken such stance on business websites meeting certain accessibility criteria, it is likely that the number of lawsuits filed for non-compliance will increase.
WEBSITE ACCESSIBILITY FOR BLIND USERS

Assistive technology and screen-reader
optimization for blind users.

Blind users utilize screen-readers to verbally dictate what is on the screen. Most websites lack alternative text for images and ARIA attributes for content and behavior-related adjustments that screen readers rely on.
Our Accessibility Solution is responsible for handling the more complex accessibility adjustments such screen-reader optimization and keyboard navigation.
The most popular screen-readers available are JAWS (Window), NVDA (Window), VoiceOver (Mac & iOS), Talkback (Android), and ChromeVox (Chromebook).
Are you ready to make your website more accessible?
Start the conversation!

Please complete are contact form below. We will get back to you shortly!
Prefer a phone call? Give us a ring at 717-363-8080
Most contact form and voicemail response times are within 12 hours.
By pressing submit, you authorize EXEPLORE, LLC to send you SMS, EMAILS, and/or PHONE CALLS pertaining to our services.